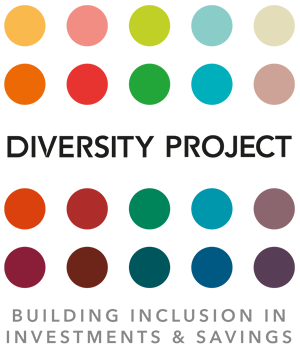 Diversity, Equity and Inclusion is not only a social obligation, it's a business imperative in the Investment and Savings Industry
How can we help you today?
Diversity, Equity and Inclusion is not only a social obligation, it's a business imperative in the Investment and Savings Industry
How can we help you today?
The Diversity Project is a cross-company initiative championing a truly diverse, equitable and inclusive UK investment and savings industry.
An industry with the right talent to deliver the best possible financial outcomes for our clients, to reflect the society we serve and ultimately to secure a more sustainable future for our sector.
Our members are asset owners, investment managers, fund selectors, family offices, investment consultants, actuaries, trustees and wealth managers. Our partners and supporters include data providers, recruiters, professional standards authorities, trade bodies and other organisations within the Industry.
Join the Diversity Project, and help campaign on the diversity issues that matter most to you.
We have over 100 Members, representing >£14trn AUM and >70,000 employees

Following the recent allegations of misconduct at the CBI, the Diversity Project – which exists solely to create a more diverse and inclusive investment and savings industry – is offering everyone who works in the industry the opportunity to share experiences of poor behaviour. These behaviours can include but not limited to; any form of bullying, discrimination or harassment, including racism, homophobia, disability discrimination, discrimination on the basis of socio-economic background as well as any sexual harassment.
We need your help. Have you experienced, witnessed, or may have caused such adverse behaviours with in the past five years? We are encouraging everyone to share any experience – please get in touch or email us via a private email. These behaviours may be related to colleagues or be related to others e.g. clients or third parties who you have worked with.
All experiences will be anonymised and your identity protected.
We are proud to have the following companies championing the Diversity Project. Their support is invaluable to the success of this industry-wide initiative.
Member Quotes
"No single investment or savings company can create the modern, diverse and inclusive industry we are aiming for, but I'm confident that over 100 working together can!"
Helena Morrissey, Chairwoman of The Diversity Project
"As a company that values Diversity, Equity and Inclusion, HSBC Asset Management is happy to be a member of the Diversity Project. Being a part of this initiative helps us to benchmark ourselves against our peers, share best practices, get involved in industry-wide programmes and make collective progress towards an inclusive culture within our industry. The association with the Diversity Project also adds momentum to our internal efforts to create a truly motivated, diverse, equitable and inclusive workforce that reflect the clients we want to serve and the societies which we want to live in."
Stuart White, CEO UK, HSBC Asset Management
Subscribe today and keep up to day with all our news
Sign up to receive our eNewsletter and be the first to hear about Diversity Project events.
Join as a Member Company
Become a member by declaring your company's support at
a business level. Apply now and let us know how you can help.