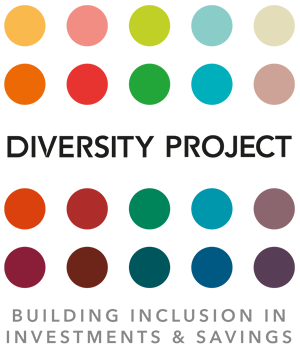 Tunde Lawal

- Head of Emerging Market Corporate Debts, Barings

Tunde was born in Nigeria and spent her formative years in the UK. She lives in Hertfordshire with her husband and two kids.Her career in financial services began 23 years ago, and she has been at Barings for almost a decade with her most recent title being Head of Emerging Market Corporate debt and Lead portfolio manager for the strategy. Tunde holds a B.Sc. in Accounting & Finance from University of Warwick and is a Fellow of the Chartered Institute of Accountants in England and Wales and is a CFA Charterholder.Tunde is a passionate advocate for diversity within financial services sector and is a member of the Diversity Project Pathway stream steering committee.
Helena Morrissey DBE

- Chair, Diversity Project

I am white British, went to a co-ed comprehensive school and then to Cambridge University, where I read Philosophy. I joined Schroders' graduate programme and went straight out to their New York office to learn about fixed income for two years, before returning to the London headquarters as a global bond fund manager.I joined Newton in 1994 and became CEO in 2001, stepping down in 2016. I was chair of the Investment Association from 2014 – 2017. I founded the 30% Club in 2010.I am now chair of two companies, Fidelis, a specialist insurance company listed on the NYSE and Altum Group, a fund services company based in Jersey. I also chair Eton College Endowment Fund and sit on the board of McKinsey Investment Office.I am married, my husband and I have nine children and four grandchildren.
Steve Butler

- CEO, Punter Southall Aspire

I grew up in the New Forest in a happy middle-class family in the 1970s, I spent my teenage years enjoying rock climbing and mountaineering and after some very dismal A-Level results started my career at 18 as an office junior with AXA Equity and Law.I have worked in financial services and investment management for over 30 years and I was appointed CEO of Punter Southall Aspire in August 2015.I am a Chartered Manager and Fellow of the Chartered Management Institute and I gained my Master's in Business Administration from Solent University. I am currently studying for a Doctorate in Business Administration at Winchester University. I live in Richmond with my wife and seven children / step children aged 17 to 23, although the majority are away at university during term time.
Katherine FitzGerald

- CPO, Redington

It's a privilege to be the Chief People Officer at Redington where our mission and values are central to the way everyone works and where our culture and our people sit at the centre of strategic decision making. My promotion to CPO at Redington shortly after returning from maternity leave is one of my proudest professional achievements. I am the first in my family to go to university and I have enjoyed working and living in 5 countries. I have a background in fast growth, mission driven businesses across the financial services and tech sectors and I have successfully built DEI strategies from the ground up.
Paras Anand

- Chief Investment Officer, Artemis

My journey in the industry began at GT Investments which was an environment that really fostered the idea of a diverse set of investment approaches and high conviction portfolios. I began my portfolio management career in UK equities before broadening to Pan Europe. I moved into a leadership role relatively early in my career and have enjoyed developing individuals teams and organisations and have been fortunate to have spent time living and working in the US, Europe and Asia. I graduated in English Literature and am passionate about topics such as behavioural psychology and innovation. I am married with two teenage children and live in North London. I am a member of the Diversity Project Advisory Council and the Executive Sponsor for the Early Careers workstream
Darren Johnson

- Executive Director and Global Chief Operating Officer at Impax Asset Management

Darren was born and raised in London and began his career in finance in 1996. His mission statement is to help to remove societal constraints that prevent individuals from fulfilling their maximum potential.He sits on the Executive Committee at Impax Asset Management, is a Director of Impax's Management Company in Japan and Ireland, and also sits on the UCITS Fund Board.Darren joined Impax in 2007 and during his tenure, he has driven technology and operational transformations, built teams and pioneered the company's transition into cloud services to support rapid growth.In addition to his Impax responsibilities, Darren sits on the board of a number of charities and organisations, including St Mungo's and the investment advisory board of Comic Relief. He is a Board Member of the Diversity Project.
Suzy Levy

- Author of Mind the Inclusion Gap

Suzy is a specialist in social change. She works with senior leaders across the public, private, education and third sectors to solve some of the most pressing social issues of our time. Although her experience is wide-ranging, Suzy is widely recognised for her pragmatic and thoughtful approach to inclusion and diversity. In addition to her client work at The Red Plate, Suzy holds a variety of board-level roles. She was a non-Executive Director in the UK government for 7 years (both at the Home Office and the Department for Education) and currently sits on the Advisory Board at social entrepreneurship firm Foundervine, creative agency Improper, and as a Board Trustee for the Women's Sport Trust.
Sarah Miller

- Senior VP, Fund Research, Redington

I work as a Senior Vice President in the Manager Research Team with a primary focus on private market strategies and specialism in impact investing. I lead on Inclusion and Diversity within fund research and also chair Redington's Inclusion & Diversity Committee. I joined Redington in July 2019 having previously worked at BMO Global Asset Management and Janus Henderson. I am a CFA charterholder and hold a BSc (Hons) in Mathematics with Psychology from the University of Birmingham.

I am co-lead of the Diversity Project Early Careers workstream.
Amy Butterworth

- Consultancy Director, Timewise

Having grown up in London, I moved to Cambridge in my late 20s where I now live with my husband and two young children. I started my career in HR and OD roles and after several years working in financial services and the third sector I made the move into organisational consultancy in 2010, joining Timewise in 2017. I love working on change projects with clients and helping them to embed new working practices that benefit their business and the people within it. Through my work at Timewise I've had the chance to work with teams on hospital wards, in retail stores and bus depots, as well as more traditional office settings, and am happy to don a hi-vis when needed! I have a masters in Psychology and am MCIPD qualified. I'm also a qualified coach and NLP practitioner.
Ben Dalal

- Director - Buy Side Recruiter, Qh4 Consulting

I attended state school just outside of London and went to read Philosophy at Southampton University. Knowing little about the world of work, besides that I was not ready to be a part of it, I managed to defer my entrance in the corporate world, stretching out the inevitable by studying for an MA in Literature.I was eventually forced to seek full-time work aged 21. The first role I found was within a small recruitment agency in Bow. There I was taught the ropes and went on to build and manage teams. I must have placed close to a thousand people into buy-side roles, mainly within technology and change in London.The buy-side has always been close to my heart and within it, I found many interesting, eccentric and intelligent people that have ended up becoming dear friends. In 2022, I started my own recruitment business - Qh4 Consulting and later that year joined the Diversity Project working as an ambassador and contributor to their SMART ways of working workstream. I am working towards building a business that I can be proud of. One which is all the things I had hoped to experience in the world of paid work, but didn't.
Nalini Solanki

-

Leading the agenda on neurodiversity at Legal & General Investment Management, Nalini has inspired colleagues and leaders within and outside her organisation, to support her drive to create positive change for neurodiversity.Diagnosed with ADHD in 2020, it made Nalini realise why her career progression has been full of speed bumps. With performance judged by how far individuals deviate from neurotypical standards, Nalini is compelled to make a difference.A role model for neurodivergent, marginalised individuals, both in the workplace and the wider industry, through her work Nalini ensures that others don't have to face the invisible barriers to progression like she has. Using her privilege and platform to change how we measure and assess performance in the workplace, to enable people to be judged on abilities, not 'standard' role requirements, Nalini is keen to inspire more organisations to do this, improving career progression opportunities for the untapped pool of existing neurodivergent talent.Nalini created the investment sector's first work experience programme tailored for neurodivergent young adults aged 16+, to provide equity of access to student work experience schemes. Launched as a pilot in June 2023 at Legal & General Investment Management, Nalini wants to encourage more firms to participate in this pioneering initiative, to attract emerging talent from low socio-economic, neurodiverse and other marginalised groups to the industry.Nalini has been working in financial services since graduating from the School of Oriental & African Studies with a degree in Economics & Politics, acquiring a wide range of experience in marketing, customer experience, segmentation and business management.Two of Nalini's three children are neurodivergent.
Tamsin Webster

- Chief People Officer, Fulcrum Asset Management

I started my career in operational and then sales roles before finding my home in HR. I have worked across many industries including telecoms, financial services, tech and consumer businesses.I live in Kent amongst apple orchards and sheep fields with my husband and dog. My step-children have left home and starting their own careers. I recently graduated with a Masters in Viticulture and Oenology (wine growing and wine making!) which is a hobby of imine. Professionally however, I have a degree in Psychology and a Masters in Coaching & Mentoring.
Mark Freed

- CEO of Meno for Inclusion and E2W

I am English, born in Birmingham I moved to London at the age of 5. I am dyslexic and with little support or understanding from schools I failed miserably academically and left education as soon as I could with no qualifications.In the late 1980's I found myself selling the fintech of its day (telex machines) to financial institutions in the city and helped start the STP revolution that followed in the 90's and beyond. Many leading asset managers around the world still rely on the technology – SWIFT, Trade Confirmation, FIX, Crest, Reconciliation systems that I first helped them implement.By the early 2000's my journey took a very different path when I co-founded E2W an organisation that is focussed on supporting and helping women in their financial services careers and helping financial institutions to attract, recruit and retain them.In 2021 frustrated at the slow pace of change and recognising that we needed more men (white ones!) actively involved in the journey I co-founded Men for Inclusion.I am passionate about diversity and inclusion and believe we now have the opportunity to drive lasting change.
Saira Farooq

- Director, Compliance, Barings

I am a British Asian woman born and raised in the UK. I read Law and Criminology at University, then started my career in the legal profession in 2008. It was there that I first noticed that barely anyone at a senior level had the same ethnic background as I did. I then moved into compliance consultancy where I was responsible for advisory and regulatory project work for clients, ranging from banks and hedge funds, to asset managers and private equity firms. I was the only woman in my team and once again felt the very real absence of diversity. I then moved in-house to Jupiter Asset Management Ltd where I was a Senior Compliance Adviser.My regulatory work lends itself well to diversity, inclusion and culture within the financial services industry as this has become a real industry-wide focus in recent years. Coupled with my personal passion to contribute towards a greater voice for women (and particularly ethnic minorities), it is a great time to shine a light on how we can proactively, and pragmatically, foster diversity and inclusion in the workplace, particularly at senior levels. I am now a Director at Barings within its Compliance team, and as a founding (and active committee) member of our Women's Network in Europe, I have contributed to a number of events such as 'She Can Be' and 'See the Possibilities' aimed at school and university students from different backgrounds. I am also a member of the firm's culture initiative group and continue to maintain an active interest in how we can better engage with diversity in challenging working environments.
Lorraine Hau

- Senior Associate, ESG Analyst, Columbia Threadneedle

I was born and raised in the UK to Hong Kong parents. After spending most of my life in the countryside, I moved to London to study Economics at the London School of Economics and Political Science. Following this, I have worked in financial services and non-profit organisations for almost six years. In my current role, I work in the Responsible Investment team at Columbia Threadneedle Investments focused on research and engagements with companies in the technology, media and telecommunications sectors. Outside of work, I enjoy practicing yoga and boxing and I am an aspiring potter!
Matt Cameron (he/him/his)

- CEO, LGBT Great and Board Member of the Diversity Project

Matt Cameron (he/him/his) – Chief Executive Officer at LGBT Great, Board Member of the Diversity Project Matt is the Chief Executive Officer of LGBT Great and founded the company in 2019 with the vision to make every company LGBTQ+ friendly inside and out. Through LGBT Great's programmes, Matt and his team are working to empower 1 million by 2030. Matt is responsible for overseeing the development and growth of the company's membership, advisory and careers services across organisations around the world.Originally from a low social-economic background in Lancashire, northern England, Matt achieved a BA (Hons) degree in Modern & Medieval History from the University of Birmingham and was the first in his family to go to university. Matt started his career within recruitment and executive search and moved to the bright lights of London in 2009 with nothing but a suitcase and a Ford Fiesta.Today, Matt is an experienced talent management, diversity and organisational development leader and advises boards and businesses of financial and professional services organisations. Matt's experience brings a proven track record building communities, developing strategies and building partnerships. Matt is also an established public speaker, master of ceremonies and facilitator.Alongside his work at LGBT Great, Matt was appointed to the UK Diversity Project Board in 2021 and was awarded the 2019 Diversity Champions Award for his contributions to diversity, equity and inclusion within the investment and savings industry. In 2023, Matt was selected onto the Goldman Sachs 10,000 Small Business Programme in partnership with the University of Oxford. LGBT Great was recently recognised in the Worldwide Finance Awards as Most Inclusive Finance Sector Community. Matt was also personally awarded Best Financial Services Inclusivity Leader in the SME Awards 2023.
Ken Kittoe

- D&I Manager, AXA UK

I'm the Diversity and Inclusion Manager for AXA UK – my main purpose is to ensure that regardless of a persons characteristics, background or circumstances they can bring their true, unique self to AXA and also thrive within their career. Growing up on a council estate in East London meant learning the hard way that some people have various barriers they need to overcome before getting into the workplace and I find purpose in knowing my role helps remove systematic barriers to allow for talent from all walks of life to flourish.Plus, AXA sponsor my beloved Liverpool Football Club…
Nasreen Kasenally

- Chief Operating Officer, UK Country Head, UBS Asset Management

I am the Global Chief Operating Officer for UBS Asset Management globally, CEO of UBS Asset Management UK, and co-lead of the integration of the Asset Management businesses of UBS and Credit Suisse, and hold external board positions at the Investment Association Board and the FCA Practitioner Panel.Previously, I held senior Risk roles across different divisions at UBS both in the US and the UK, and most recently, I was the Chief Risk Officer (CRO) for UBS Asset Management, for UBS Group EMEA region and for Group Sustainability.I am an active champion of Diversity, Equity & Inclusion at UBS, with external interests in mentoring female social entrepreneurs tackling microfinance in developing countries. It is a very important topic for me!I live in London with my husband and our 2 children and I love keeping fit by exercising.